WFH? We asked our team about their most effective home office setup
Creating your own home office? Need ideas for your setup? Transform your home into a productive workspace with tips from our team's personal home office spaces.
At The Remote Company, everyone can work from home (always). Our remote employees each have their own way of working, and WFH office setups to fit their preferences.
Some employees work from the couch, while others need an ergonomic setup for their backs. We have team members who have created a dedicated home office space; others use any available space. (even ironing boards!).
When it comes to creating the best home office setup for yourself, it's important to consider your individual needs and what will make you feel productive and content. Ask yourself what type of furniture, equipment, and tools you need to maximize your productivity and satisfaction. It could be something as simple as a desk lamp or a longer-term investment, i.e. a standing desk.
At The Remote Company, we are committed to providing our team members an optimal workspace for remote work. That's why we offer every team member a Joy Budget of USD$1,000 to customize their remote or home office setup to suit their needs. Ready for some WFH setup ideas?
Scroll down to check out our teams' home office setups below. Learn how to work from home like a pro.
---
Ignas Rubežius
CEO | Working from New York, USA 🇺🇸
Having a standing desk and an Aeron chair makes my workspace comfortable. I use an Apple Studio Display to extend the capabilities of my MacBook Pro. I'm passionate about design and art, so on my office wall hangs 'The Board Member' by Robertas Narkus. It serves as a reminder to me to keep things light and fun while I'm working. To top off my workspace, I'm blessed with a stunning view of the Hudson River.
Ilma
CEO | Working from New York, USA 🇺🇸
I love moving around with my laptop, so I don't have a separate screen, just a wireless keyboard and a trackpad from Apple. I have a standing table and usually stand during meetings. I have an assistant (my cat!) who also helps me care for my mental well-being. He's either on the table or in his hammock at the window (you can see the hammock in the photo above). 😸
Gediminas Andrijaitis
CPO | Working from Vilnius, Lithuania 🇱🇹
This is my home office setup. Yes, my workspace is always this neat.

I have a monitor, laptop, wireless mouse, and keyboard for my WFH setup! I like to keep it minimal.
Iolanda
Customer Support Specialist | Working from Coimbra, Portugal 🇵🇹
I moved recently, so my home office is still a work in progress. Home office completed... for now! I bought my keyboard using the Remote Company's Joy Budget last year. It's the Keychron K2.
Marcin
Videos and Webinars Creator | Working from Skierniewice, Poland 🇵🇱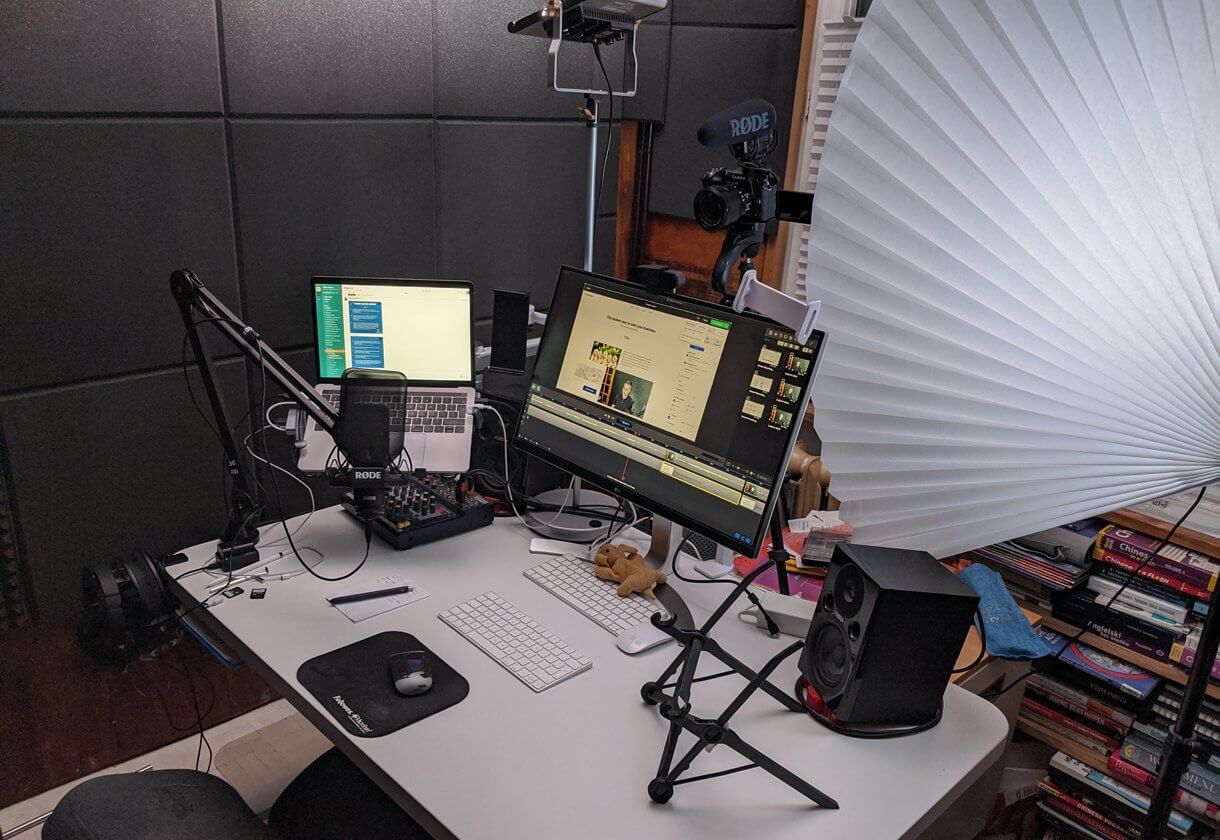 My work-from-home office setup is a little different than most, as I made it into a soundproof recording studio to host webinars and record videos. The three greatest investments I've made for my home office desk setup are a large screen, a laptop stand, and an office chair without a backrest.
I also use an electric standing desk. I have the camera on the table and adjust it with a remote. This home office desk is perfect for taking videos, photos, eating soup, and cleaning! You just move it up to the highest stand and vacuum underneath, easy peasy!
Nicole
Content Manager | Working from Vancouver, Canada 🇨🇦
My workplace is a mix of work and play! I have an adjustable standing desk, and a simple Samsung monitor from Amazon as an additional screen to my MacBook Pro alongside my Apple Magic keyboard and mouse. I always have a bottle of water and my goal planner when I work to stay focused and hydrated. I love working with music so I have my Audio-Technica vinyl player and Edifier speakers next to me. The version of the vinyl player I own is no longer being manufactured, so you could say it's a limited edition. I love playing the ukulele and play it when I have a break sometimes!
Madison
Remote Officer | Working from Tui, Spain 🇪🇸
This is as tidy as it's going to get.
I can't live without my noise-cancelling AirPods (Thanks to construction outside my window) and my planner! Also always some drink next to me - coffee in the morning, and water the rest of the day. I use my adjustable desk to stand or walk on the treadmill too!
Arka
Site Reliability Engineer | Working from Patna, India 🇮🇳
I like to keep it simple. It's all about viewing my balcony garden from my home office window! The one thing that is important to me is the home office chair. I spend a lot of time on it, and it should be ergonomic; I use the DrLuxur WEAVEMONSTER.
Ovidijus
Software Engineer | Working from Klaipėda, Lithuania 🇱🇹
My desk is missing cups of coffee/tea and water, but it stays more or less like this (unless I'm working on some DIY or IoT project, there is no free space on the table!) 😀
Here is a list of gadgets I love using and highly recommend:
Mi Curved Gaming Monitor 34" - perfectly fits 2 applications side by side, such as a browser and IDE. Has a nice curve and good specs.

MX Keys - smooth keys and perfect for using 1 keyboard for multiple devices.

Any Logitech MX Master mouse, as they support multiple devices, has an ergonomic shape. I am using the first one, and I love it :)
Mindaugas
Lead Developer | Working from Klaipėda, Lithuania 🇱🇹
I like working on my curved monitor too. I feel more comfortable and really like its sleek aesthetic. These monitors generally have better visual quality and help free up space on my desk. My co-worker also consented to be a part of this home office setup and for the photo! 😸 That's his favorite spot, especially during the winter!
Ashraful
Software Engineer | Working from Dhaka, Bangladesh 🇧🇩
This is my small cozy home office setup, with my precious trespasser 👶😊 For gadgets, I use the following:
I want another monitor, but only after getting a bigger office space! 😊 Let's just say I have my heart set on something for next year's Joy Budget!
Uendal
Full Stack Developer | Working from Campo Formoso, Brazil 🇧🇷
Unlike the fancy home offices many of our developers have set up, here's mine, right now it's a work in progress.
I plan to buy a stand-up desk and a hub to manage all those cables better 🤣 I always have a notebook to sketch ideas and write to-do lists!
Ignas Lunėnas
Designer | Working from Vilnius, Lithuania 🇱🇹
I like to keep my workspace minimal. Few things that are always on my work desk?
Tristan
Software Engineer | Working from Marseilles, France 🇫🇷
I used my Joy Budget and bought a proper desk for my new house. I also invested in IT equipment - two monitors + a keyboard. My "battle station" (and where I code from!) looks like this. 😄
---
The best home office setup checklist
Though everyone's home office looks different, there are some items that most of us have used. Our shopping list for creating the most productive and comfortable working space contains:
A laptop

A second screen

A standing desk to alternate between sitting and standing

Headphones to reduce outside noise or listen to great tunes

Good Wi-Fi

Natural lighting

A personal touch!